Enhancements to VGM, Booking System, the Company Portal, the Technician Companion App and our new VHC.report. Bugfixes to all applications.
Check out the previous release notes as well!
Enhancements
VGM
Enhanced functionality in Create MOT Reminders
Vehicles whose MOT dates have expired is now classed as valid up to a year in the past, your potential customers who are driving on an expired MOT can now be reminded.
Part Number purchase
Part Number added to the purchase returns screen.
New events grid has been extended to jobs and now shows in the Technician Planner
Shows Jobsheets, Tasks, Comments and Advisories in a new tab in the events grid.
Icons indicate which of these items have been read by the user already.
Each row is clickable and will take the user to the event to action it where necessary.
VHC Management
As mentioned in our blog post, VHC's can be edited in VGM
VGM now gives users the ability to manage all aspects of a VHC from within a Jobsheet in VGM.
Added Severity Level to VHC Report Template.
Edit Checklist results.
View images captured from within the companion app.
Send SMS and Email of VHC results to the customer.
Print individual VHC reports separately.
Customer Portal (VHC.report)
Announcing VHC.report! A simple, easy to use website for your customers to find and view their VHC from anywhere in the world. Features include allowing customers to see their VHC results, also view each items notes, and images.

Booking System
Consent checkboxes will show/hide depending on config
SMS and email consent checkboxes will now hide if a branch doesn't want to capture this information
Added support for Facebook Pixel analytics
You can now supply us with your Facebook Pixel ID to track users use of your booking system.
Technician Companion App
Redesigned the Login screen
This was done to combat password managers auto-filling the URL field with usernames.
Redesigned the Task List screen
Infinite scrolling implemented on complete and future lists.
If a task is a VHC and it has been created then a complete/total count will show.
Added a limit to incomplete chip (defaults 1 month).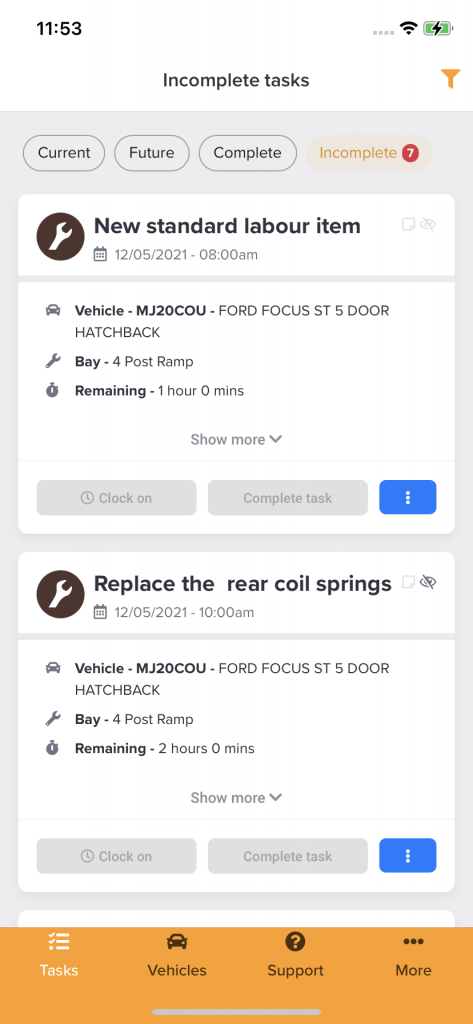 Redesigned the Task Details screen
Each part of the task details has been put in their own segment that better shows which segment you're looking at. This should clear up the amount of information we show at this stage, without losing anything. This should also make notes a lot clearer, which notes belong to what.
Added Intercom chat for easy in app support
In app support is here! Just like in VGM, technicians can now contact our support team from within the app.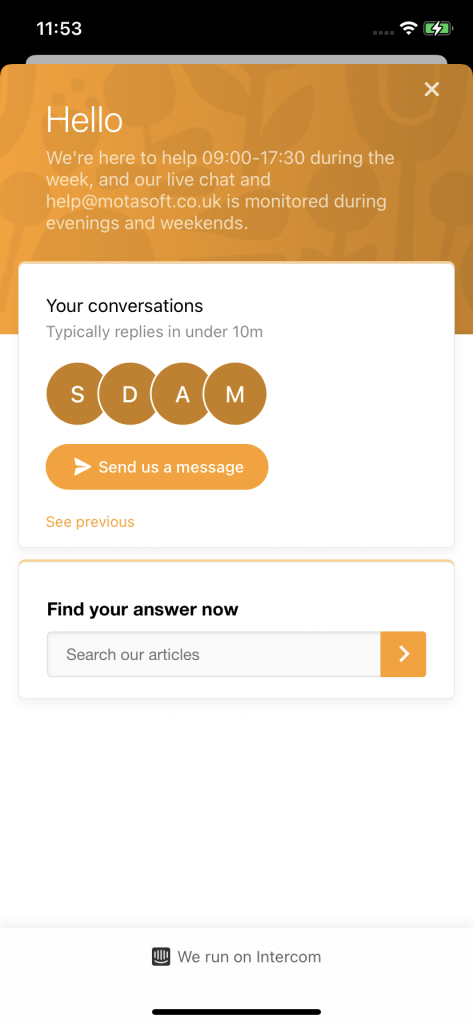 Push notifications when comments are added in VGM
Push notifications have now extended to let user know when a comment has been added to a task. As well as when as task is assigned to a user.
VHC items can now have media against them
As part of our new customer portal VHC.report. Users can view media, this media will be collected using the technician companion app.
This feature is in an opt-in beta, please contact us if you would like access to this feature.
Company Portal
Implement Quickbooks export reference
Quickbooks export reference gives users more characters than Sage reference.
Bug Fixes
VGM
Bug: Reminders being created outside of a booking were not being included in the 'Delete existing reminders' check when a new booking was created, causing invalid messages to be sent out if the booking was created early.
Fix: Altered validation to include these reminders.
Bug: Within the Technician Planner </br> tags would show instead of a line break in the task description.
Fix: Replace </br> tag with a new line.
Bug: Printer messages could be set to send automatically.
Fix: Applied additional logic to stop this from happening.
Bug: Temp part nominal codes are unclear.
Fix: Made them clearer.
Bug: Cannot add new return reason to purchase return.
Fix: Fixed the control UI so it's now possible to create a return reason.
Bug: A booking that's being added to a Sales Invoice which is then deleted can break various logic paths.
Fix: Additional Validation has been added to Fix the broken logic paths.
Bug: Using the search bar on the Xero Invoices window always causes an error
Fix: Fixed the search terms being sent to Xero to prevent errors.
Booking System
Bug: Addressed an issue where technician name was being missed out on a booking confirmation email.
Fix: Removed it from the default template.
Bug: When a new booking was being made, there was no check for existing future reminders causing invalid messages to be sent out if a customer booked in early.
Fix: Add validation to remove old reminders.
Bug: Users without a valid basket could land on "select date and time" or "enter details" steps.
Fix: Added a check on these steps before load.
Technician Companion App
Bug: Addressed and issue where notes could not be removed once added.
Fix: Allow users to save notes when the notes field is empty.