Soon we will be releasing a set of new features that will significantly enhance the vehicle health checks that you can perform using Virtual Garage Manager and VGM Technician, our technician companion app.
These new features include:
Media Capture. Using VGM Technician, you will be able to take photos against VHC's directly from the app.
VHC Management. View, edit and complete vehicle health checks from within VHC. Once finished, you'll be able to instantly print off the report to give to your customer or send your customer a link to their digital VHC report.
Digital Customer VHC Reports with VHC.report. We have developed a centralised website VHC.report, where your customers will be able to view their VHC alongside any notes and images captured by your technicians.
These features will provide better customer interaction and promote better communication between you and your customers by showing rather than telling.
Capturing, Managing and Sending a VHC
Using a combination of VGM and the Technician Companion App, you can provide the most accurate and up to date representation of a customers vehicle.
With the technician companion app, your technicians can:
Mark items as green, amber or red.
Record tyre tread depths.
Store notes against items.
New. Take images against checklist items.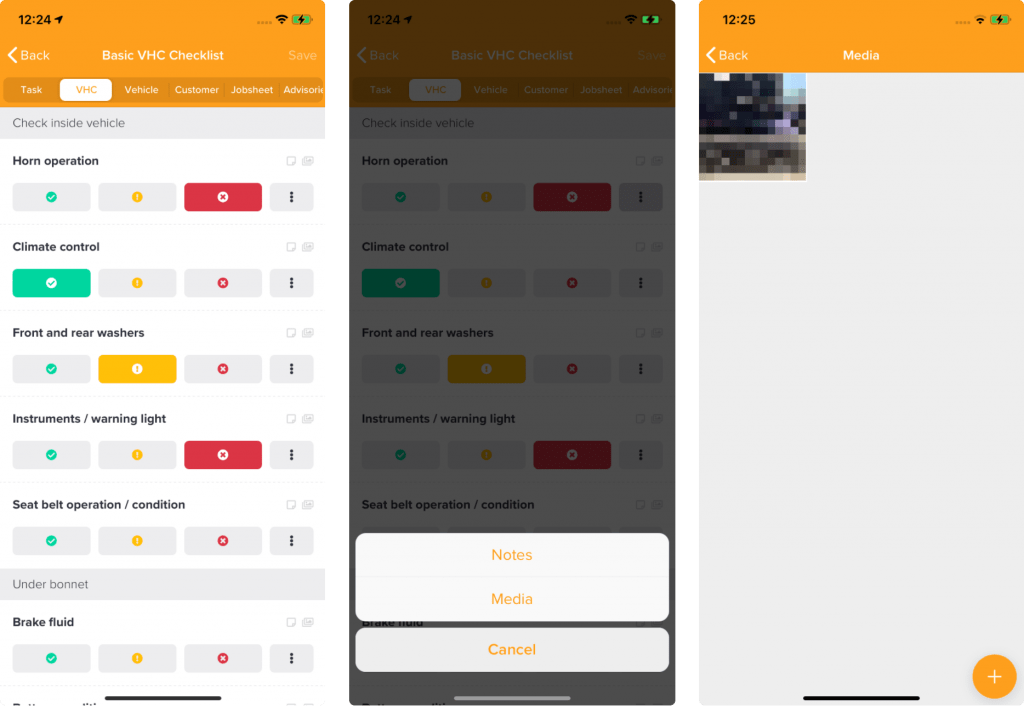 Once complete, using VGM, you can check this data, amend it if necessary and either print it off or send a link to the digital VHC report to your customer, which they can view on any device. With only a few clicks.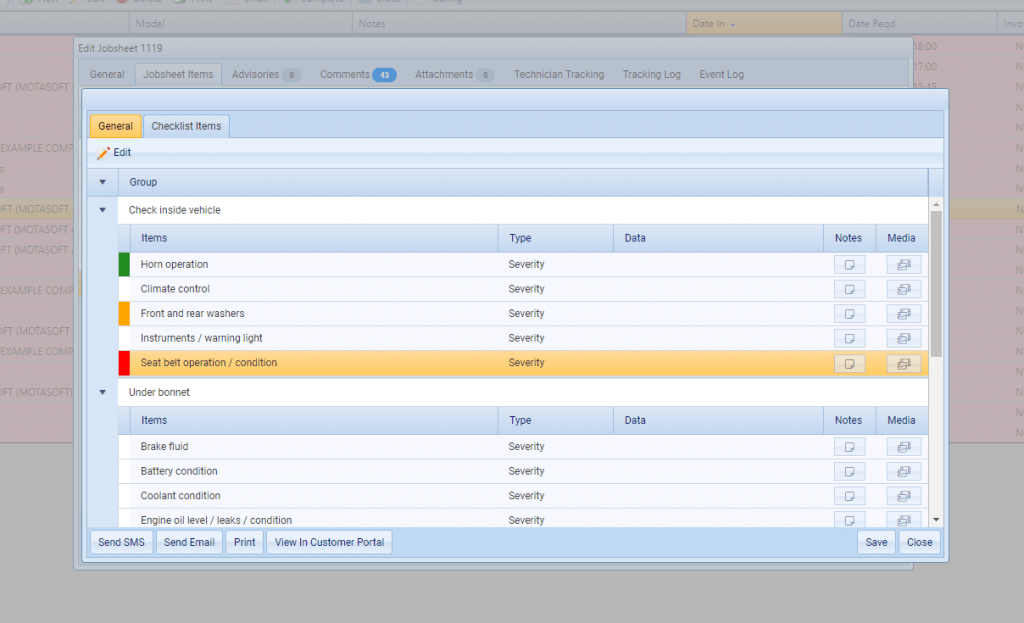 VHC.report
VHC.report is our latest product, built to deliver an interactive digital VHC report to your customers on any device. Once the VHC is complete in the garage, you can send an email or SMS to your customer with a link to their bespoke, interactive VHC report.
The report will show all of the checklist items, along with the colour coded result:
Green: visually ok
Amber: advisory
Red: requires urgent attention.
They will also be able to see any photos and notes logged against that item.
Using this report, you'll then be able to get the customer booked in for follow up work, and you'll both have a digital record of your recommendations.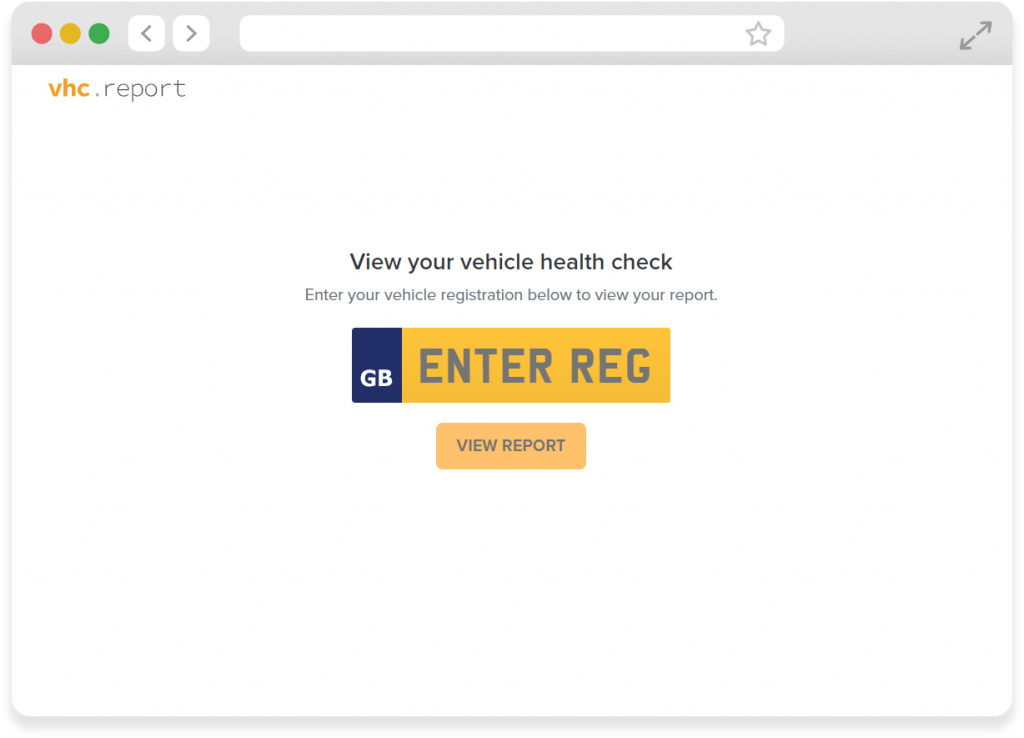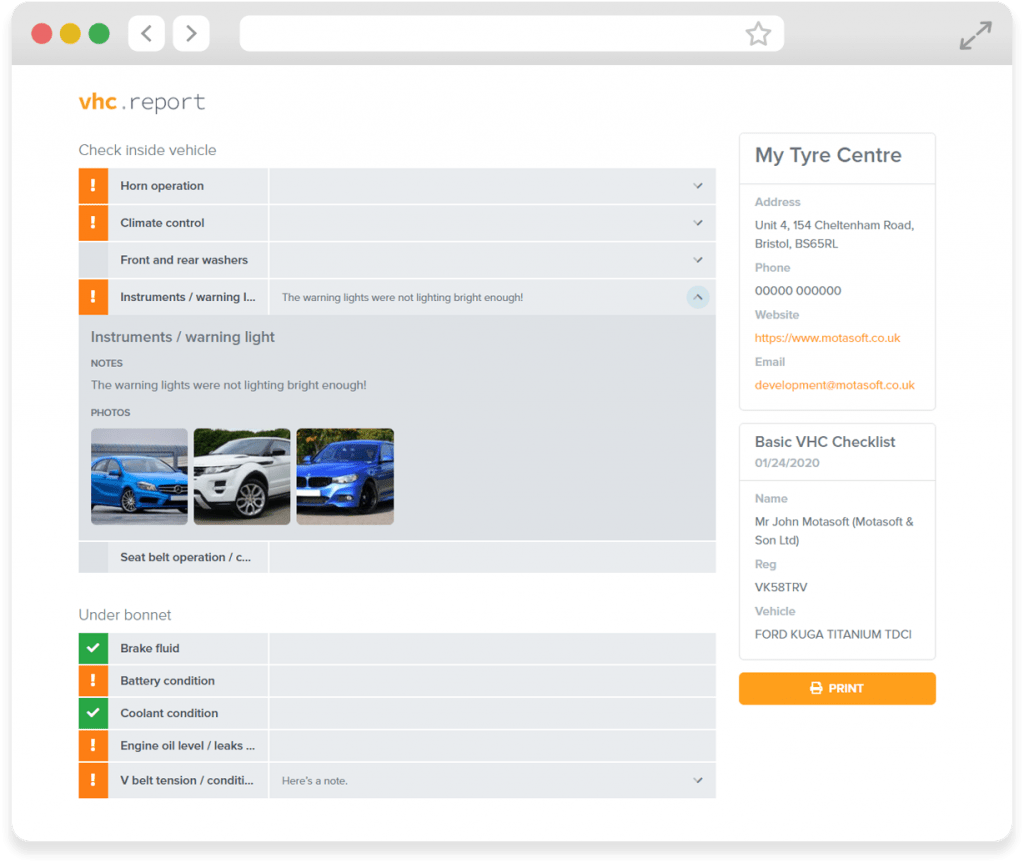 VHC feature roadmap.
We consider this release to be the first significant step in developing a robust, customer-focused VHC platform to help bridge the gap between you and your customers.
We'll be listening intently to feedback from our users to make sure that we are heading in the right direction. Still, shortly we'll be adding additional media capture (video and voice notes) as well as adding other functionality to VHC.report, so your customers can get booked straight in with just a couple of clicks.
When will this be available?
We'll be releasing this functionality very, very soon. However, we are opening up beta in early June for those that wish to get their hands on it sooner rather than later. If you want to get your hands on this functionality, drop a message to support@motasoft.co.uk, call 0117 9 428 678 or find us on our live chat when you're logged into VGM.