In the fast-paced environment of automotive management, staying on top of your key business metrics is vital for success.
At Motasoft, we're committed to providing you with the tools that help you manage and grow your business effectively. That's why we're delighted to announce the introduction of new purchase-focused dashboard widgets in Virtual Garage Manager (VGM) that offer you a clearer view of your purchasing data.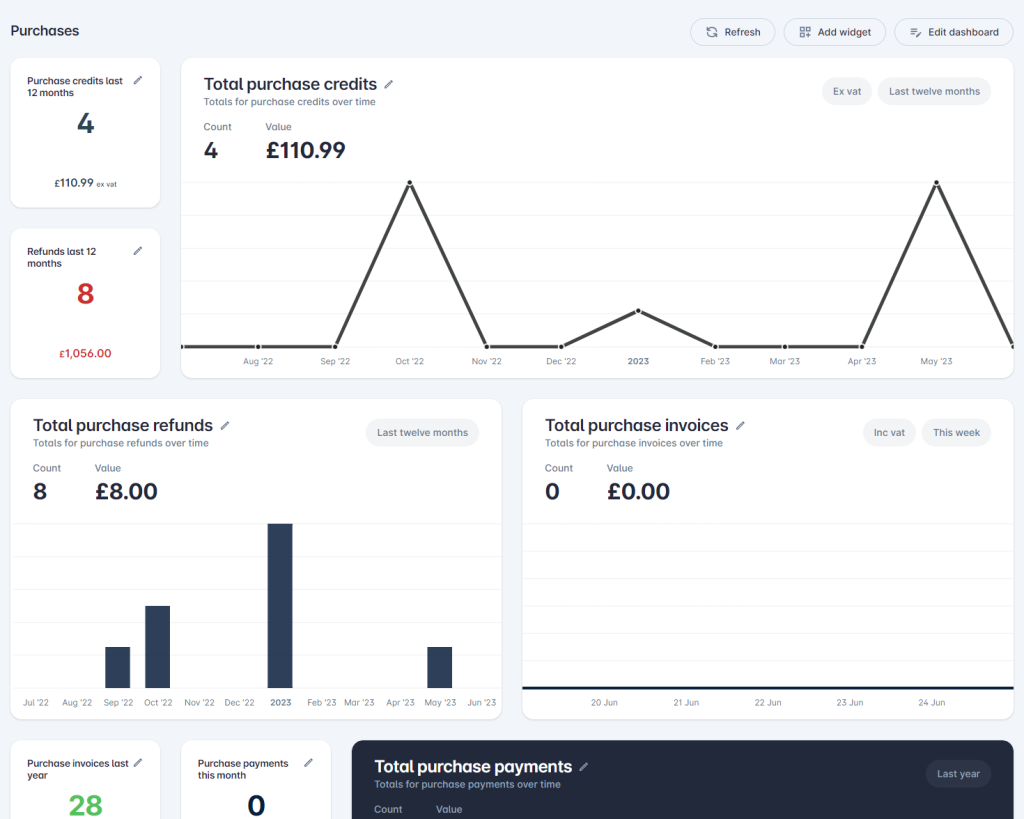 Purchase-Related Widgets for Enhanced Business Insights
The latest updates in VGM include the addition of specific widgets and graphs that provide in-depth insights into your purchase information. These widgets cater to a range of needs, covering:
Purchase Invoices: Keep track of your bills and expenses, providing a clear picture of what your business owes to suppliers.
Purchase Credits: Monitor any credit notes or refunds you receive from suppliers, aiding in your financial reconciliation.
Purchase Payments: Stay up-to-date with the payments you've made to your suppliers, ensuring you're maintaining healthy supplier relationships.
Purchase Refunds: Easily track the refunds you receive, enabling you to accurately reflect these transactions in your financial records.
These new widgets give you the power to analyse your data at a glance, helping you make informed decisions quickly and efficiently.
Customisable VAT Visibility
In addition to the new widgets, we've also introduced a feature that allows you to toggle VAT visibility across all financial dashboard widgets. You can now choose to show or hide VAT based on your specific requirements, providing more flexibility and control over how you view and interpret your financial data.
Transforming Business Management with VGM
These new dashboard enhancements are part of our ongoing commitment at Motasoft to equip you with the best tools for managing your business. By providing you with comprehensive, easy-to-understand financial information right at your fingertips, we aim to make your day-to-day operations smoother and more efficient.
We're excited to see how these new features transform your experience with VGM, and we're always eager to hear your feedback. If you have any thoughts or questions about the new purchase-focused dashboard widgets or any other features in VGM, please feel free to reach out to us.
Stay tuned for more updates and enhancements to VGM, designed with your business needs in mind. Thank you for your continued support!