During our previous release in the Spring of 2022, we launched a survey where we reached out to everyone to get an idea of which features they would love to see in our products. The results of this survey have been incredibly helpful in helping to shape our upcoming releases.
The first question we asked was, 'What features would you like to see in VGM?'.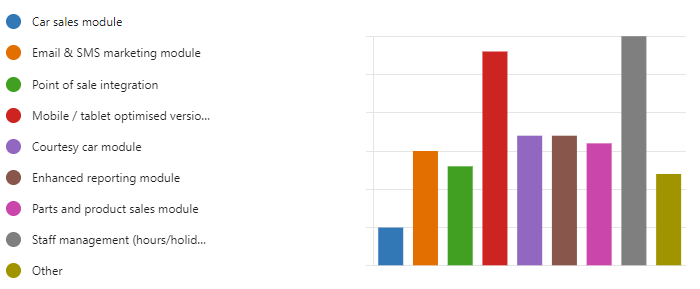 The overwhelmingly popular results were a more modern, mobile and tablet-optimised version of VGM and a module to deal with staff management (working hours/holiday etc…).
Since late 2021 we've been working on what will eventually become the successor to VGM, but in its early stages will run side by side with VGM, with all of your business data available in both. The early parts of this application already exist within VGM (the customisable user dashboard is part of this). This new application will work across all devices so that we can provide a better user experience across mobile and tablets. 
We're also building full staff management capabilities into the app, and our dev team already has an early version of this in development.
Which features would you like to see added to our companion app?

The companion app results highlight three areas we will address: vehicle damage location diagrams, repair diagrams (via Haynes Pro) and access to customers, vehicles and jobs. These features are part of our backlog and will be developed in the future.
Which features would you like to see added to our online booking system?

The overwhelming feedback we've received is that you'd like a better option for online payment. We're currently talking to payment providers that are much more tailored towards garages, offer better rates and fees, and offer other payment options, including point-of-sale integration and the ability to send payment links via email. We want to create a fully integrated solution that will become central to your business. To do that, we're currently talking to potential partners that will be able to offer you competitive rates, great support and no long, multi-year contracts.
Which 3rd party providers would you like to see us integrate with?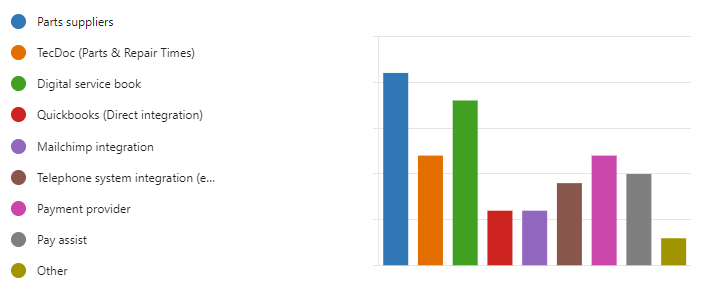 There seemed to be two 3rd parties that were popular; parts suppliers and integration into a digital service book. If you have specific parts suppliers in mind – we'd love to hear from you so we can get an idea of who we should be approaching. Digital service books are something that we've been actively looking into.
Conclusion
The results from this survey have helped to focus some of our upcoming projects so that we can provide you with a product that you know and trust. 
As mentioned at the beginning of this article, we've been working on a new application that will run alongside VGM, which will be faster, more modern, highly customisable and built using the past ten years of feedback we've had regarding VGM. We'll release more information and ask for alpha testers in the coming weeks.