As we approach the end of 2022, we reflect on our previous release, which saw the launch of VHC video capture, new dashboard widgets and improvements to various other aspects of VGM (click here to read about our previous release).
Our final release of 2022 brings some much-requested features, while development behind the scenes is preparing for a massive release in the first part of 2023.
New features include:
New! Automated MOT reminder service
Our new automated service which ensures MOT reminders are delivered at the right time.
User dashboard widgets
We've added over a dozen new dashboard widgets, covering critical business areas, including advisories, comments, nominal codes and technician performance.
Customer statuses and restricting access to the online booking system
Assign custom statuses to customers and restrict who can and can't make bookings through your online booking system.
Financial and jobsheet improvements
A number of QOL improvements to both financial areas of VGM and jobsheets.

Automated MOT Reminder Service
We have built an entirely new automated MOT reminder service to ensure your customers receive accurate MOT reminders. Previously, MOT due dates within VGM were created either manually or by using existing MOTs booked at your garage. 
The new automated MOT reminder service runs in the background daily to create new reminders based on the DVSA data while also checking that future queued reminders will get sent out on the correct dates.
It's possible to configure SMS*, email and postal reminders to use this service.
Currently, this new service is disabled by default, so please get in touch with our support team so we can enable it for you.
*SMS credits required.
Dashboard widgets.
Another month, another selection of dashboard widgets. This time we've addressed five new areas, adding a total of 13 new widgets to help visualise the critical areas of your business. 
Technician performance
We've added four new widgets to help visualise technician performance. The highlight is the "Technician efficiency and value chart". This chart shows how many hours your technicians have been assigned vs how many they've completed, overlaying their efficiency or the value of the hours completed.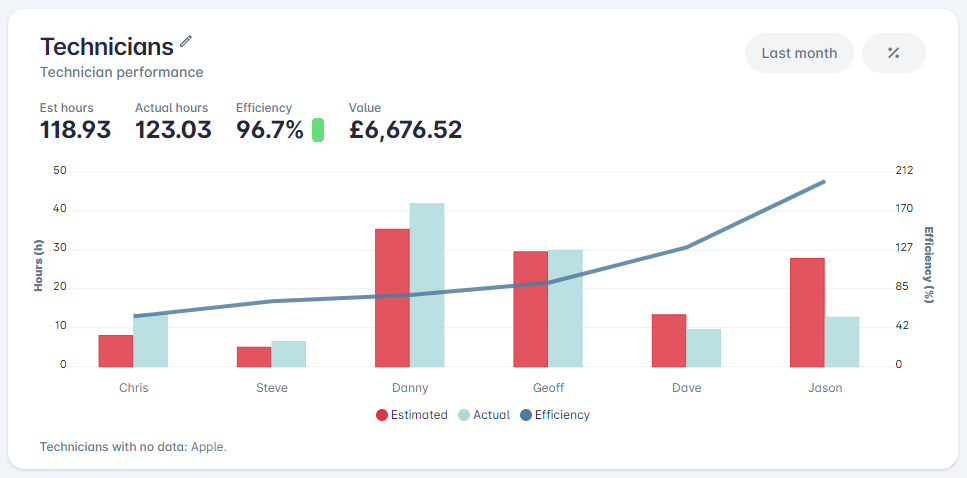 Nominal codes
We've added three widgets that help you create widgets to track specific nominal codes, a table, a graph and a simple value widget.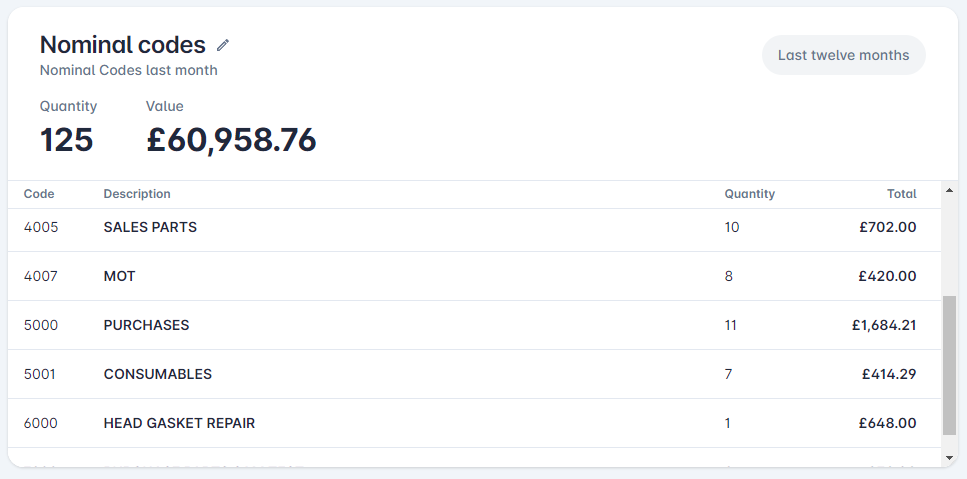 Advisories
Our first advisory widget will show a list of any vehicles which have recently had advisories raised.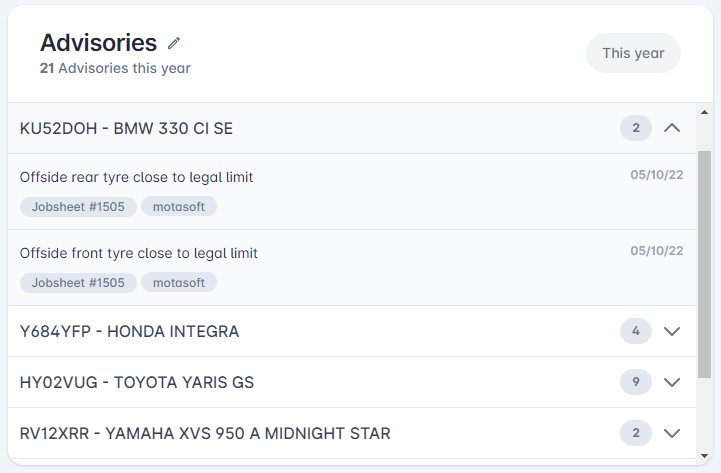 Comments
Similar to a messaging inbox, the comments widget will display any recently added comments and links to the jobs they were created against.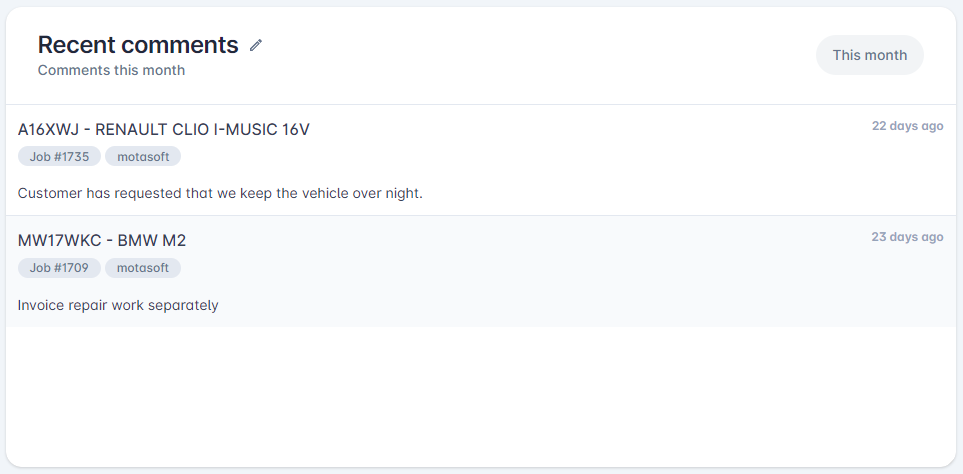 VHCs
Two new widgets to help display which vehicle health checks are in progress and which VHCs have uncovered issues.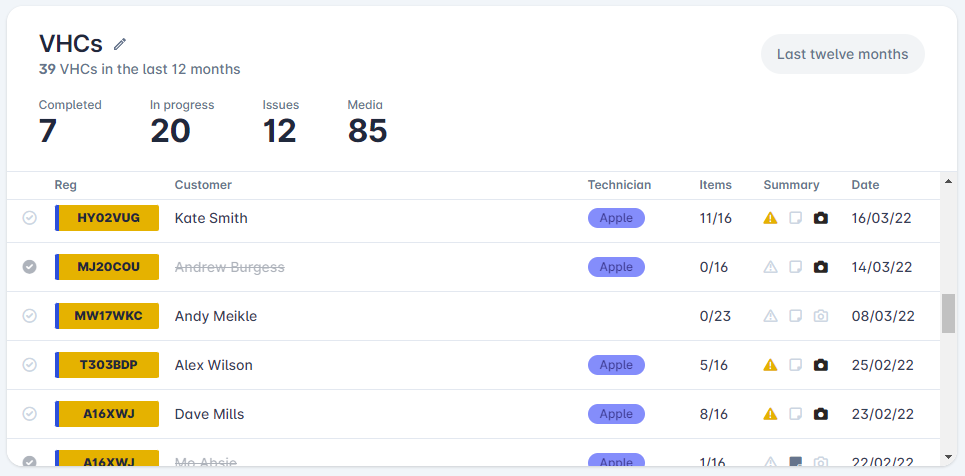 Jobsheets
A simple jobsheet table to show which jobs are currently in your garage.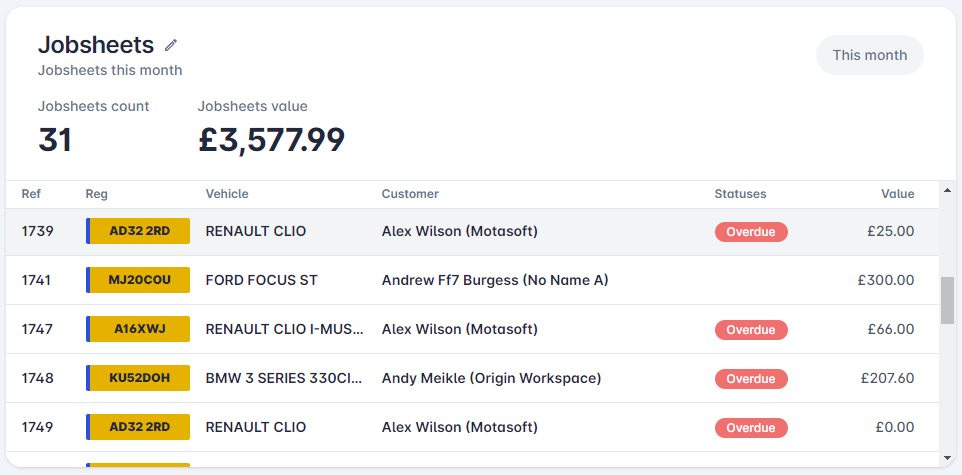 Customer statuses and restricting access to the online booking system.
Everyone will eventually have difficult customers, and a much-requested feature was the ability to both create custom statuses for customers (for example, account on hold) and for the ability to restrict access to online booking for specific customers (including those who attempt to make fake bookings).
Online bookings can be restricted by the customer address, email address, IP address, phone number and vehicle registration.
(This functionality is only available with our latest booking system – which is available at no extra charge).
Financial improvements 
Release 3.6 brings many quality-of-life improvements to many financial documents within VGM.
Assign payments to batches of invoices or credits.
This time-saving functionality allows you to pay off batches of sales or purchase documents quickly without opening each document individually.
Enhanced user restrictions.
Additional user restrictions are now available so that you can restrict certain users from creating or deleting financial documents.
VAT adjustments.
You can manually adjust the VAT on purchase invoices and credits per the sales invoice functionality.
Jobsheet improvements.
We've added some additional functionality to help extend and enhance how jobsheets work.
Adding slot types (services) to jobsheets.
Previously, you could only add full bookings to jobsheets which could be a slow process depending on your garages workflow. With this release, you can add a slot type directly to a jobsheet and automatically create future reminders based on the reminder templates against the slot type.
View jobsheet comments from sales invoices.
The jobsheet comments tab has been beneficial in allowing your technicians to communicate about a job as it's in progress. These comments are also available when that jobsheet becomes a sales invoice, allowing a seamless transition from your technicians to accounts.
Minor updates & enhancements
VGM
Attach VHC reports to emails – VGM now allows users to attach VHC reports when emailing jobsheets and invoices. 
Creating quotations – You can create quotes directly from the vehicle or customer grid when right-clicking a record. 
Outstanding balance in customers grid – An additional column has been added to the customers showing their outstanding balance. There is also a new dropdown which allows users to filter the grid based on amounts outstanding. 
Search by phone in the customer's grid – You can now search by customer phone number.
Customer's last activity – An additional column has been added to the customers' grid which shows when they were last active.
Support setting text colour in jobsheet statuses – Users can now set the text colour and the back colour of jobsheet statuses. 
Removed customer duplicate email restriction – When creating a customer account, you can now use an email address already in use. 
Allow editing of VHCs when a jobsheet is closed – Users can now edit VHCs and other Jobsheet attributes that won't affect financial information when it has been closed or invoiced. 
Forcing users to create a booking from a slot type when converting a Quote has been removed – We deemed this validation rule too heavy-handed, so we have removed it. There is no need to create a booking from a slot type through the entire document journey unless required. 
Search for the customer by reference – Users can now search by reference when adding a customer to a Jobsheet or invoice. 

Booking system
Tyre VRM lookup styling tweaks – The tyre VRM lookup has been isolated further for clarity.
Extras icons are now visible within the booking system and can be sorted via VGM.

Technician companion app
Video upload enhancements – We've made fundamental changes to how the video upload works behind the scenes, enabling faster uploads and app use during the video upload process.

Company portal
Xero integration now supports having a default contact for unlinked customer records.
Bug fixes
VGM 
Company image – Added a browse button that allows Image upload and selection in the financial settings. 
Planner – Was showing the slot type long description by default in the appointment preview – this is for online booking and not relevant to show here, so it has been changed to the booking notes field instead. 
Planner – Missing validation checks relating to closing, opening and converting Jobsheets. 
Tyres – Barcode scanning was not working when trying to search for tyres; this has now been addressed and fixed.  
Supplier dropdowns – These weren't ordered alphabetically by default. 
Purchase documents – Nominal codes weren't ordered when adding line items.  
Editing users – Password fields have been moved, causing issues with browser auto-fill; users now have to click a button to reset the password separately. 
Booking requests – Notes were only showing on the shopping basket; we've now implemented them in the booking request and sales quotation forms for greater visibility. 
Bookings – Creating a vehicle from the bookings grid now correctly defaults transmission to your set default transmission type.
Technician Companion App 
VIN formatting – Corrected the VIN formatting. 
VHCs – VHCs now remember their position after closing the media gallery. 
Customer Portal 
Tread depth – Updated our styling rules to include 0mm. 
Company Portal 
Transactions export – When trying to download an existing transactions export with no customers, the export previously would not work. 
Xero Integration – We have made our processes more resilient to errors in the middle of an upload.
---
---