The much-improved sales document grid. 
Over the past three months, our development team has torn apart and rebuilt the sales document grid – one of the most used screens within VGM.

A lot of the feedback we've received regarding this area of VGM is that, while helpful, grouping invoices, quotes and credits into a single view isn't always ideal. Following on from that feedback, we've added a new tab strip along the top of the sales documents grid so you can invoice, quotes and credits separately – or if you're happy with how things currently work, you can use the 'All' tab to view them all together.
To help you visualise where in the sales process these documents are, we've now added the following:
Against quotes, there are columns called 'communication' and 'conversion'. Communication has icons to show if the quote has been printed or emailed, while the conversion column has icons to show if a quote has been converted into a jobsheet or sales invoice.
Sales invoices have the same communication icons as above.
Credits also have the same communication icons as above.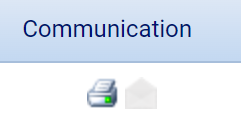 Behind the scenes, we're also rolling out infrastructure changes that should help speed up the sales document grid. 
Updated documentation
We've updated our documentation to reflect the changes to this grid. Click here to check out the article Sales Document Grid Overview.